I've adjusted and adjusted, and my Bumm Albert copy mirrors are just not working. I don't think that Vech's Alberts will help, it's not the field of view, it's just seeing (or not seeing) the glass. Between the low handle bars and my height (6') I just can't easily move my body to see the mirrors. In my drive way, they seem like they will work, but on the road in real life, they don't cut it.
I had handle bar mounted mirrors which functioned well, but I did not like the way the bike looked.
So, for kicks I reversed my Bumms and mounted upside. I can see great with them like this. I don't love the way they look, but I like them better than the handle bar mounts.
I know you purist will not approve, but have any of you guys done this and just how goofy does it look?
Be kind...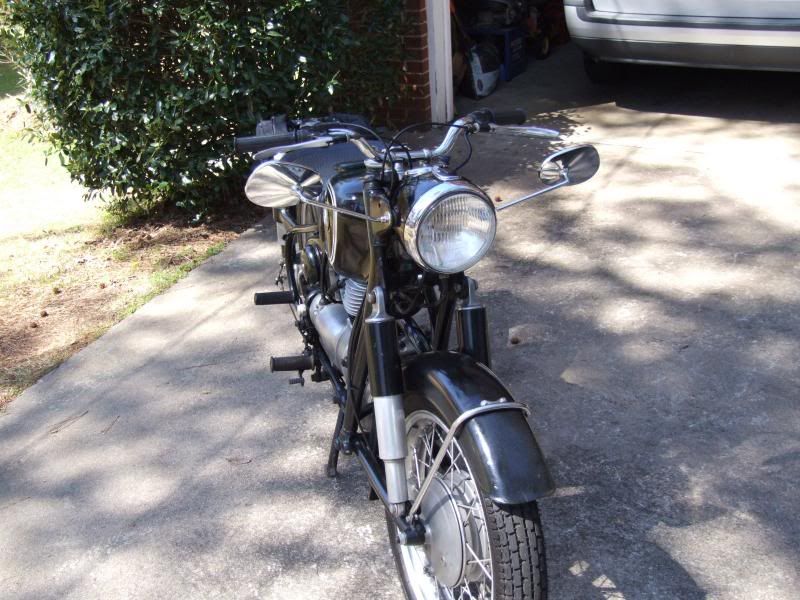 Sat, 04/06/2013 - 13:18
#1
Personally, I don't like the
Personally, I don't like the look. But I really don't see what the problem is with the headlight mirrors. I have Bumm mirrors on my R25/2 and see relatively well. I have probably the same setup with handlebars. My bike is in the member galleries. I look down over the top of my hands and the reflection is from under the grips...it'll never be the same field of view as with handlebar mirrors and longer stalks. But it's pretty decent as far as I'm concerned. Actually, on my R69S with round handlebar mirrors, I see half behind me...the other half is my arm.
With the mirrors like you have them, it would almost seem like you will just see your hands on the grips. Since the mirrors are higher, the angle of sight in and out will be reduced. With the mirrors mounted the other way, the sight angle is increased into the mirror and subsequently, the reflection comes from a bigger angle.
Whatever works for you!!
Sat, 04/06/2013 - 14:32
#2
...I think those mirrors are
...I think those mirrors are designed for USA bars, but you can try to rotate your low bars up bit (raise your hands out of the mirror view) and see if that works with the mirrors in their normal position?...inanycase, maybe safety and seeing what's behind you is more important than looks: save those for show, and put real mirrors on for go?...
Sat, 04/06/2013 - 16:02
#3
mirrors UP or Down
i have the same 'low' bars with my mirrors 'down'
but i'm a squat 5'9" - works fine for me
If it feels good - do it .
#47


Sat, 04/06/2013 - 16:39
#5
Lost cause?
As far back as my /2 memory goes, people have complained about not being able to see much with their headlight-mounted mirrors. The handlebar mounts are much better, and bar-ends, in my experience, are the best.
Sat, 04/06/2013 - 21:16
#6
Headlight mirrors
My Albert Headlight mirrors work fine.You just need to adjust them to not look at your thigh. Also the arms on mine point more down than what you have going . Try switching sides?
Sat, 04/06/2013 - 21:28
#7
Yes...can be frustrating. If
Yes...can be frustrating. If you don't find the "sweet spot" you end up getting a first rate view of your knuckles.
my best spot is to orient them so the shafts angle downwards ...on my one R-26 I even slightly increased the angle of the bend in a vice.
then angle the mirror itself to a perhaps 30 degree angle; then the lower 1/2 of the mirror gives me a sight-line that passes under the handlebar and gives me a good view both sides of what is behind me.
easily gives a good sight line under the low bars...the european bars.
took some experimentation mind you.
and all this is provided you are not at the RPM where the mirror vibrates and you can't see anything (grin)
nothing beats the look of those Bumm mirrors.
That said, if this current setup is working for you, stick with it
Only R-26 nuts... like me and you are going to notice if they are oriented up or down (grin)
I agonize over which grips to use on my 1956 or which gas cap is more authentic and a correct "period" item...and my wife says "get a life" (grin)
Grant. Toronto
Sun, 04/07/2013 - 08:17
#8
Mirrors
I also like the look of the standard setup between looking down and seeing the reflection under the grips but it doesn't give the best view. I have had the thought of adding about 2'' on each mirror to get my thunder thigh out of the picture. I have two BMW's and on my 69S I may go with bar end mirrors and no turn signals. It would be nice to find a bar end mirror that has as well signals that would still be appropriate.....no skulls or lightning bolts, what are they thinking. I also have my bars turned down more than your picture I like the thought that nothing is higher than the headlight. Maybe a more of a harder ride but I need to feel like I'm square on and more in a racier position. Get a life ..... little do they know ....fussing with and riding a BMW is pretty good. cheers
Sun, 04/07/2013 - 09:04
#10
My R69S had aftermarket
My R69S had aftermarket clamp-on mirrors on both sides. During the initial mechanical resto, I removed them and went with the single left-side screw in mirror. I was completely lost the first time I got on it and didn't find anything on the right side...it's such a force of habit to check left and right. I suppose I would have gotten used to it, but I couldn't put the clamp-on mirrors back on the bike fast enough!!
Sun, 04/07/2013 - 12:22
#12
I couldn't easily find much
Sun, 04/07/2013 - 13:06
#13
About bar-ends
Vech sells a nice pair of Albert stainless fold-down bar-end mirrors (accessory 202), and there are a number of generic versions that will work on just about any bike. I see Bumm bar-ends on ebay from time to time. I have a pair of vintage Stadium mirrors on my R69s. They work very well but are hard to find in good condition and likely to be relatively expensive, since they are favored by British bike owners. The UK company that currently owns the name (I think it's called Halycon) still makes a version of fold-downs.
Some dislike the look of bar-ends, and others are concerned about the added inches they add to the width of the handle bars. Those are not problems for me, and I appreciate the wide view they provide of what's behind me. Lane-splitters will need to recalibrate their passing technique to allow for the added width.
Tue, 06/25/2013 - 14:28
#14
Fri, 06/28/2013 - 03:11
#16
not bad
not bad, I like the small size though I dont like the round shape of them, The ones I prefer dont sit on the sides of the bar but just above the grips if you adjust them so (see attached foto) and the (short of) oval shape fits better.
When I will have them on I'm gonna post some pics of it .
Cheers.