Hey Gang,
I'm doing an exhaust thread repair on the right cylinder.
I took a couple pictures of the head/piston area.
I noticed that the exhaust valve was a lighter brown color and had a lot of buildup on it.
The piston seemed pretty wet and oily.
I'll clean both up, but do you see anything out of the ordinary or I should be aware of?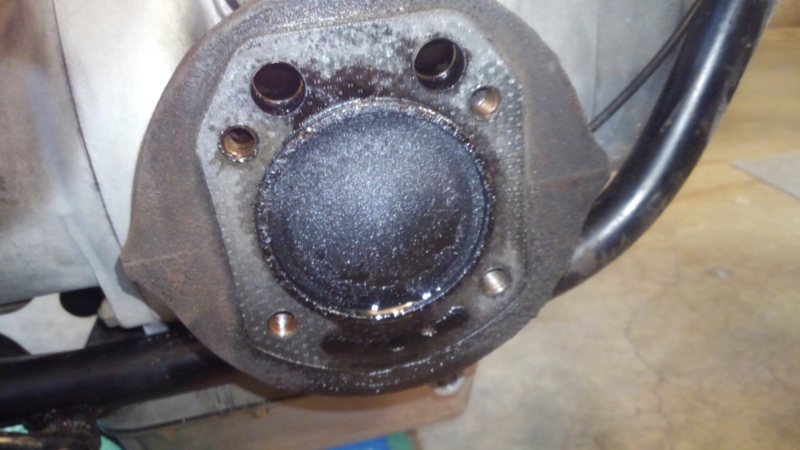 Mon, 01/07/2019 - 17:52
#1
Its ok.
Its ok in general. How many miles on it?
Mon, 01/07/2019 - 19:02
#2
How does the bore
How does the bore look?
Icarus
Tue, 01/08/2019 - 10:07
#4
Valve Guides
Should be original not over sized if never bored to a larger size at some point
It would be wise to measure the old ones to be sure
Tommy
Tue, 01/08/2019 - 20:27
#5
R69s guides larger than R60 guides
Not sure if R60/R50's had different sized guides but I am sure that the R69s had larger diameter guides.
Mal
Wed, 01/09/2019 - 10:42
#7
What now
With that kind of mileage, you should really consider doing the slingers. If you only rebuild the top end, the old slingers will be overfilled and a seizure may be imminent. This is also a good time of year to do the slingers as you may need to send out the bottom end, shops will be looking for work.
Thu, 01/10/2019 - 06:18
#9
Its about the clearance
Yes they look nice and clean and that is promising - no obvious scoring for instance.
However it is about the clerance - if the wear is well beyound the factory tolerances - then it will rapidly burn oil, foul up and not be happy.
Just measure it up so you know where you stand.
Mal
Thu, 01/10/2019 - 07:26
#10
My R69S pistons had 1/68
My R69S pistons had 1/68 stamped on them...inside the piston was a number 12/67 which I suspect was the date of the mold. BMW said my bike was built in the spring of 1968 but wasn't sold until December 1969, thus resulting it being classified as a 1969 model. I think motorcycles were not selling well at the time and dealers weren't ordering bikes as often, so mine likely sat at the factory for several months. So your stamp of 2/68 could be the same situation...it might not have left the factory until late in 1968.